The idea of ​​a comedy night in a war-torn country is somewhat contradictory against the backdrop of blitzkrieg-like living conditions and rising casualties in eastern Ukraine.
But while blackouts and power rationing have characterized winter life in the Ukrainian capital of Kyiv, the need for humor as a means of escape remains, says Oksana Koschel of Sky News' Ukraine War Diary. Told.
In the latest episode of the podcast, she reluctantly attends a comedy night with her husband and fellow diarist Seva. It's an experience that brings both reflection and perspective, and some deep realizations about war.
Click to subscribe to Ukraine War Diaries wherever you can get the podcast
"I never thought that being able to laugh at many of my fears, laugh at myself, and make fun of my enemies would make it easier for me to overcome many of my fears."
Oksana has been recording an audio diary of life in the war zone for Sky News since shortly after Russia invaded Ukraine last February 24th.
At that time, Oksana's house was invaded by Russian soldiers. She bids farewell to her friends, who are now taking refuge in Europe, and tells terrifying stories recounting her lost companions and atrocities from her enlisted husband, Seva. heard.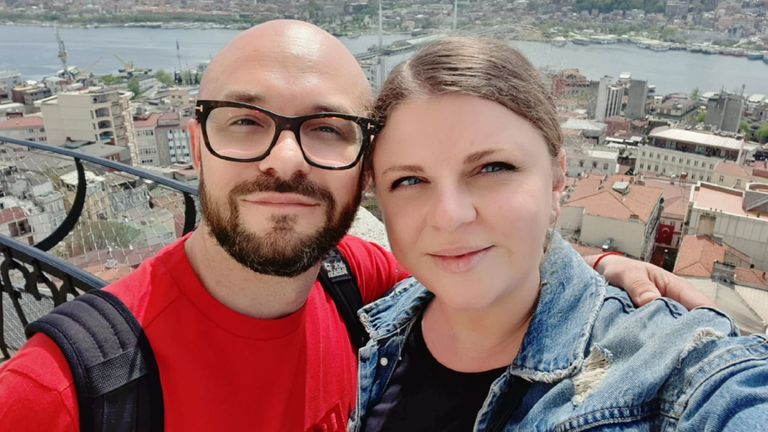 "The situation on the front is really tough and we are constantly watching the news and updates about the fighting in eastern and southern Ukraine and we hope that our soldiers will be able to return to their families," she continues. .
"War is still going on [but] Of course, life goes on. "
From the creators of Sky News' award-winning StoryCast, Ukraine War Diary is a weekly podcast that follows those living and fleeing Europe's new frontline.
Producer: Robert Mulhane
Digital promotion and additional writing: David Chipakpak