UK pubs and farms alarmed by latest CO₂ production halt
Britain's drinks and food industry is, understandably, worried that there could be shortages of carbon dioxide once CF Fertilisers UK halts production of ammonia and CO₂.
Emma McClarkin, chief executive of the British Beer and Pub Association, said the timing of this news "couldn't be worse".
Pubs and brewers are already dealing with severe headwinds and pressures on their supply chains, McClarkin pointed out, adding:
"This decision raises serious concerns for the sustainable supply of CO₂ to the brewing and pub industry.

"A guaranteed supply is essential for operations across pub and brewing businesses."
National Farmers Union president Minette Batters said it was monitoring the impact of the move both on the production of fertiliser, of which ammonia is a key ingredient, and CO₂ (used to stun livestock before slaughter).
She said the move was "extremely worrying and is a sign of the pressure the fertiliser and energy markets are under."
Key events
Time to wrap up, ahead of tomorrow morning's grim energy price cap announcement.
Here's today's main stories, on the energy crisis:
And also on the UK's looming carbon-dioxide crisis:
The cost of living squeeze:
And also:
The Lancashire town of Burnley suffers the highest inflation rate in the UK – 11.5%, due to high poverty levels, poor home energy efficiency and greater reliance on private car use.
My colleague Mabel Banfield-Nwachi reports that pressure on households is rising:
Families are leaning on local services, charities and the generosity of others to help them afford even the basics. However, the leader of Burnley council, Afrasiab Anwar, says there is only so much goodwill they can rely on as more people struggle to get by and local services are stretched.

In 2020, the council set up a charity in partnership with other local organisations to support the community during the pandemic. People could call Burnley Together for support to set up a debt repayment plan, get emergency food parcels, and advice on what benefits they were eligible for. It was supposed to be a short-term solution. Two years later, its services are expanding.

"The frightening thing is that it's not just who you'd typically regard as people who need that support. It's working families that are struggling to make ends meet and it's only going to get harder in autumn," says Anwar. "It's not just those who are the most vulnerable, it's going to hit everybody."

Since 2010, the council's funding has dropped by 36%, approximately £5m a year. "For a small council like ours, that's massive," Anwar says. "The government always talks about levelling up, but we have not seen that. We've gone backwards."
Here's the full piece:
Two fifths of people in the UK have struggled with food and energy bills in past three months – and most people think the government is failing to help.
A new survey from polling company YouGov has found that:
Four in ten Brits have struggled with food bills (42%) and energy bills (41%) in the past three months

A quarter (23%) have already had to cut back on key essentials

Three quarters (77%) say the government is doing too little to help those struggling with the recent rise in the cost of living, including two thirds (64%) of Conservative voters
Nearly 60% of lower income households, earning under £20,000, are already struggling to meet energy bills even before the price cap rises in October. A similar proportion were finding it hard to pay for food.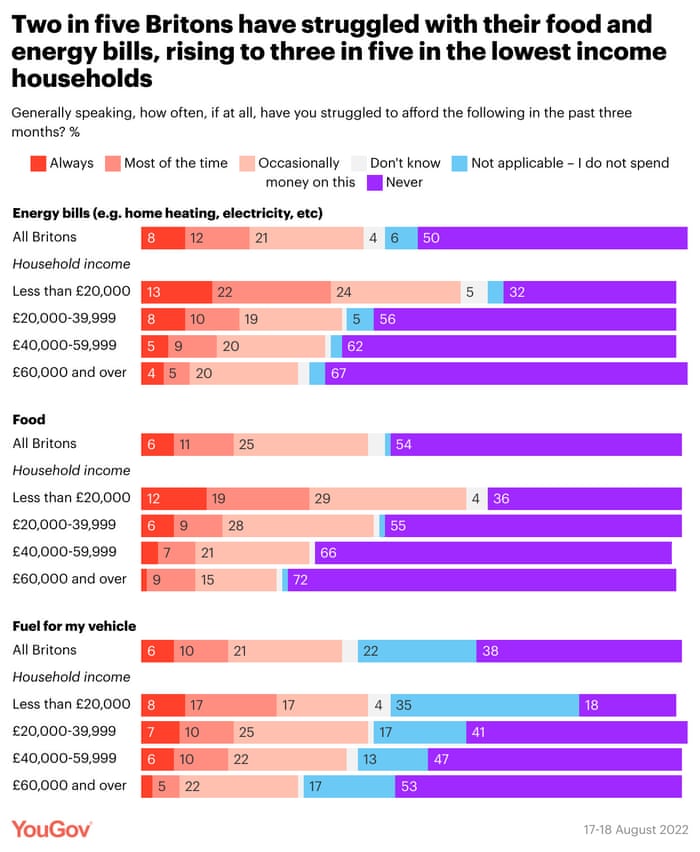 Stocks have opened higher in New York, as investors await to hear from US central bank chief Jerome Powell at the Jackson Hole economic symposium tomorrow.
The Dow Jones industrial average of 30 large US companies has gained 136 points to 33,105, while the broader S&P 500 is up 1%.
Stocks rallied during August, on hopes that the Federal Reserve might 'pivot', and slow the pace of its interest rate increases as the US economy slowed.
Powell, though, may use Friday's speech to reiterate the Fed's hawkish position, and also acknowledge that inflation has not proved as transitory as he thought last year….
Royal Mail is also bracing for more than 100,000 postal workers to strike on Friday in a dispute over pay.
The industrial action is being described as the biggest strike of the summer so far, after staff overwhelmingly voted for take action as they seek a "dignified, proper pay rise".
Friday's strike is due to be followed by further stoppages on Wednesday August 31, Thursday September 8 and Friday September 9.
The Communications Workers Union said management imposed a 2% pay rise on employees, well below inflation.
"In an economic climate where inflation looks set to soar to 18% by January 2023, the imposition will lead to a dramatic reduction in workers' living standards".
Royal Mail said it has "well-developed contingency plans" to minimise disruption, focused on getting mail delivery back to normal as quickly as possible after strike action.
The postal group says its pay package is worth up to 5.5%, (2% plus 3.5% subject to agreeing new terms).
Royal Mail faces national security probe over Czech billionaire Kretinsky's stake
Royal Mail is facing a national security investigation into a plan by Czech billionaire Daniel Kretinsky to increase his stake in Royal Mail to more than 25% of the company.
The UK government has informed the postal operator that business secretary Kwasi Kwarteng "reasonably suspects" that Kretinsky's Vesa Equity group plans to increase its stake, currently around 22%.
Kwarteng, the minister for business, energy and industrial strategy (BEIS), has said he will exercise his powers to look into the matter under the National Security and Investment Act.
Vesa Equity, ultimately controlled by Kretinsky and his business partner Patrik Tkac, said separately it had voluntarily contacted the government to inform it of its intention to increase its stake in Royal Mail.
This is the second stake to attract Kwarteng's attention – earlier this week, the government said it wouldn't take action over billionaire Patrick Drahi's 18% stake in BT.
Eurozone 'in shallow recession', warns UBS
The energy crisis means the eurozone is already slipping into recession, warns investment bank UBS.
It predicts eurozone GDP will shrink in the current quarter, and again in October-December, before picking up early next year.
Given the prospects of further significant energy price increases across the Eurozone – particularly in Germany – and the marked decline in the PMIs in July/August, we now expect the Eurozone to suffer negative q/q growth in Q3 and Q4 2022, followed by modestly positive growth in Q1 2023.
This week's flash PMIs, or purchasing managers surveys, showed that France and Germany's private sectors are both contracting this month.
Energy firms refusing to supply small UK businesses over bankruptcy fears
Major energy firms are refusing to supply small businesses out of concern that they could go bust, while some are demanding £10,000 up front, business owners and industry experts have told the Guardian.
In the latest sign of the deepening energy crisis, business owners said they were struggling to find a supplier in the run-up to the busy October period for renewing gas and electricity contracts, leaving them facing "extortionate" bills or demands for a deposit.
Suppliers named as having refused service, or asked for a downpayment, include SSE, Scottish Power, E.On Next, Drax and Ecotricity.
Business owners called for urgent action from the government, warning that sectors such as hospitality, which already struggling with inflation and the lingering effects of the Covid-19 pandemic, are at particular risk.
Teresa Hodgson, landlord of the Green Man pub in Denham, near Uxbridge, was initially told by her supplier SSE that it could not give her a quote for energy because prices were increasing so fast.
"When I did pin them down, they said before we can go any further, we want £10,000 deposit," Hodgson said.
"When I asked why, because they've never had an issue with me, they said: 'We don't think a lot of pubs are going to make it this year and we need security.'"

"There were other suppliers who just wouldn't entertain it at all because it's hospitality,"
Here's the full story, by my colleagues Rob Davies and Joanna Partridge: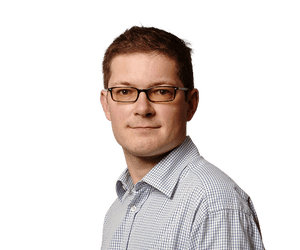 Rupert Jones
Back in the UK, "Bills included" has become the most popular search term for people looking online for a place to rent, according to data that highlights how alarmed many tenants are about the prospect of a big rise in energy costs.
The website Rightmove said properties where monthly outgoings were included in the rent had for the first time overtaken ones that accepted pets and those with gardens as the most desirable for prospective tenants.
It is thought that most UK private rental properties do not include utilities in the rent, though student houses are among those that are often let by landlords on a bills-included basis.
US jobless claims fall despite slowing economy
We also have better than expected news on the US employment front.
The number of Americans filing new claims for jobless support has fallen to a one-month low of 243,000 last week.
That's less than forecast, with the previous week's reading revised down too (to 245,000 from 250,000).
It suggests that American companies are not laying off staff, despite the slowing economy and rising interest rates.
The US economy shrank less than first thought in the last quarter, updated figures show.
US GDP fell at an annualised rate of 0.6% in April-June, not the 0.9% drop first estimated.
The improvement is due to upward revisions to consumer spending and private inventory investment that were partly offset by a downward revision to residential fixed investment.
That still means two quarters of negative growth in a row – a technical recession.
The minutes of last month's European Central Bank meeting, where it raised interest rates for the first time in a decade, show that policymakers are concerned about the fall in the euro (to a two-decade low versus the dollar), and the weakening economy.
The minutes, released this lunchtime, also show that the decision to raise rates by a hefty 50 basis points (not just 25bp) was broadly supported.
ING have picked out some highlights:
Concerns about the weak euro came on top of the policy-relevant discussion, with "Members widely noted that the depreciation of the euro constituted an important change in the external environment and implied greater inflationary pressures for the euro area..."

Recession is still a forbidden word in the ECB's dictionary as it was only used nine times. However, there were many phrases like downturn or contraction, pointing to the same direction.

Wage growth remains key for the ECB to identify second-round effects as "Members agreed that the persistence of inflation depended, to a large extent, on the behaviour of wages. Wage growth, also according to forward-looking indicators, had continued to increase gradually over the last few months but still remained contained overall."
Farmers hit by record inflation, driving up food prices
The input costs paid by UK farmers has jumped at a record pace, leading to unprecedented increases in charges for food products such as oats and milk.
The price index for agricultural inputs leapt by 33.1% in the year to June, government data shows, led by fertilisers and soil improvers which more than doubled (+128%), energy and lubricants (+66%) and animal food (up around 33%).
This forced farmers to lift their own prices by around 25% year-on-year, with the output value of oats soaring by 88%, wheat up 54%, rapeseed up 66% and milk by 41% in the year to June.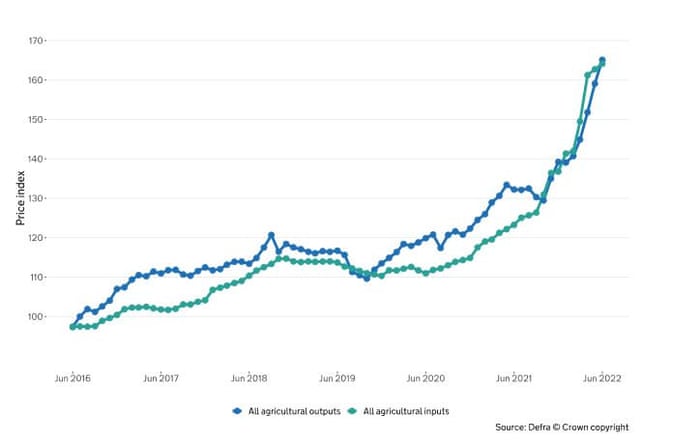 This is even before the closure of ammonia production by CF Fertilisers raises fresh worries about rising costs, and even potential livestock culls.
Susannah Streeter, senior investment and markets analyst at Hargreaves Lansdown, explains:
Farmers may once again face the difficult decision of having to cull animals if a backlog builds up for abattoirs and if a solution to the looming CO2 shortage isn't found quickly.

Farms have been trying to absorb the eye-watering rise in costs, by finding new ways of working. Although input costs rose by 33.1% the value of agricultural output rose by 24.9% in the year to June. This still represents a horrible rise in prices which has been feeding through to our grocery bills.

The value of some agricultural products have soared much higher than the headline rate such as oats, up 88%, oilseed rape up 66% and milk up 41% in the year to June, and only forage plants saw a reduction in output value.

Although the rise in farmers input costs have been slowing down a little, they are still on an upwards trajectory and this latest fertiliser production crisis will add fresh impetus to the storm they are facing.
A shortages of carbon dioxide could leave farmers unable to send animals for processing for food, creating a 'serious animal welfare risk', Farmers Guardian reports.
Nick Allen, chief executive of the British Meat Processors Association, explained:
We knew back in June that the closure of CF Industries' Cheshire plant would leave UK CO2 supplies vulnerable to anything going wrong with their remaining Billingham plant and that we would be heavily reliant on overseas suppliers to make up the shortfall.

Since then, ammonia producers in Italy and Germany have cut production which sent European food and drink companies scrambling to secure tightening supplies of the gas at the end of July.

Whilst we are in a much better position now than we were a year ago, if CF Industries follows through on its threat to close Billingham the British meat industry will have serious concerns.

Without sufficient CO2 supplies the UK will potentially face an animal welfare issue with a mounting number of pigs and poultry unable to be sent for processing.
Here's the full story: 'Serious animal welfare risk' as CF Fertilisers halts CO2 production at last UK plant
The Social Guarantee, a group promoting interest in Universal Basic Services (UBS), has criticised British Gas's pledge to donate 10% of profits to struggling customers as "farcical".
They say the UK needs a public energy company to give everyone access to affordable energy:
UK retailers hike prices at fastest rate since 1985
UK retailers are lifting their prices at the fastest rate since the mid-1980s, adding to the cost of living squeeze.
Average selling price inflation in the year to August sped up to its fastest pace since 1985, the CBI's latest industrial tends report shows.
Firms are expecting to rise at a similarly quick rate in September too, adding to the inflationary pressures hitting shoppers.
Surprisingly, British retailers also reported their strongest month for sales in August in nine months, confounding forecasts for a fall as the cost-of-living squeeze hits household.
But, retailers are the gloomiest they've been since the first pandemic lockdowns over two years ago, meaning many plan to cut investment.
Martin Sartorius, principal economist at the CBI, says the sector needs more support:
While retail sales returned to solid growth in the year to August, firms remain pessimistic about their business situation over the next three months – to the greatest extent since the first Covid-19 lockdown in 2020.

This gloom is reflected in retailers' investment intentions, which continue to be resolutely negative.

Firms now need support from the government in order to encourage investment and create sustainable growth. Crucially, business rates reform and a more flexible apprenticeship levy will help with dwindling business confidence.
Full story: CO2 producers urged to meet UK food needs after halt in production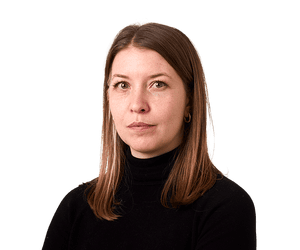 Kalyeena Makortoff
The government has urged CO2 producers "to do everything they can" to meet food and drink industry demand, after one of the UK's largest suppliers confirmed it was going to pause production at a key factory.
CF Industries, which accounts for 60% of the UK's CO2 supplies, said soaring energy prices meant it would have to "temporarily halt" production at its remaining UK ammonia plant, which creates the gas as a byproduct.
The plant in Billingham, Teesside, is essential to industries ranging from beer to meat to fizzy drinks.
CF Industries said the shutdown was the result of tough market conditions, noting that current prices for natural gas used in the process were "uneconomical" after rising to twice the level they were a year ago. It expects prices to continue rising in the months ahead.
Gas prices jump on supply worries
British and European wholesale gas prices have risen today, intensifying the energy crunch, as supply concerns increase.
Uncertainty about Russian gas flows pushed up prices, with a three-day shutdown of the Nord Stream 1 pipline for maintenance scheduled for next week.
Russia's Gazprom said today that said no turbines used on the Nord Stream 1 gas pipeline were undergoing maintenance in Canada, a day after a Canadian minister was quoted as saying five turbines were there.
Nord Steam 1 is already running at just 20% capacity, and there are concerns that it might not resume operation next month after the temporary shutdown (from 31st August to 2nd September).
UK wholesale gas for delivery next month has jumped almost 10% today to 600p per therm, which would be highest settlement price ever. A year ago it was around 110p/therm.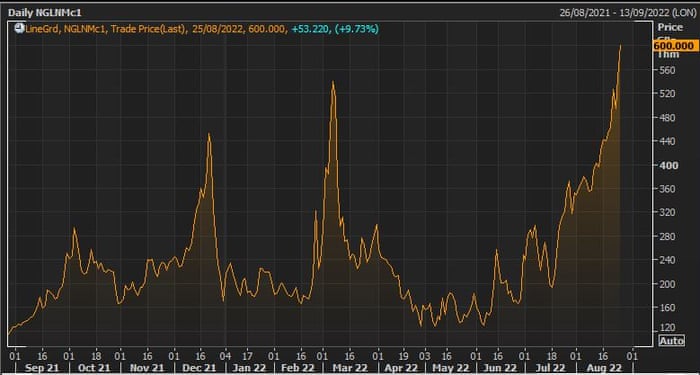 UK wholesale gas for Q1 2023 has risen 14% to 790p per therm, while the summer 2023 contract is up 13.6% at 660p/therm, showing that prices are expected to remain very high next year.
The Dutch contract for September delivery a European benchmark, rose by €15.95 to €315.95 per megawatt hour (MWh) this morning, the highest since March when the Ukraine war sent prices soaring, while the December price was €30.55 higher at €319.75 euros/MWh.
Electricity prices in Germany and France are at new records too.
Several of EDF's nuclear power reactors in France, which have been offline for repairs, have seen their restart pushed back to at least mid-November in an adjustment of outage schedules, Reuters points out, further delaying 5.2 gigawatts (GW) of supply at a time of historically low availability