The Prime Minister, backed by NBA legend Shaquille O'Neal, sought constitutional recognition and a voice in parliament for Indigenous Australians.
Key Point:
O'Neill attended a press conference with Anthony Albanese and Linda Burney after meeting with the prime minister on Saturday morning.
Albanese said O'Neill wanted to inform himself about the debate over Congressional voices
Albanese said the world is watching the debate over the perception of indigenous peoples
Anthony Albanese praised O'Neal after meeting basketball greats in Sydney on Saturday morning, highlighting his work "in the United States on social justice and lifting marginalized people."
"He knows we are warm and generous people," Albanese said.
"And he wanted to let himself know what this discussion was about."
The Prime Minister insisted that the world's attention was on Australia's debate on indigenous peoples' perceptions.
"I believe we can send a positive message to the world about our maturity as a country," Albanese said.
The Prime Minister, along with Indigenous Peoples Minister Linda Burney, presented O'Neill with a boomerang handcrafted by Indigenous artist Josh Evans and two of Mr. Albanese's beloved South Sydney Rabbit jerseys.
"I am here in your country. Anything you need from me, let me know," O'Neil said.
"We all know Shaq loves Australia."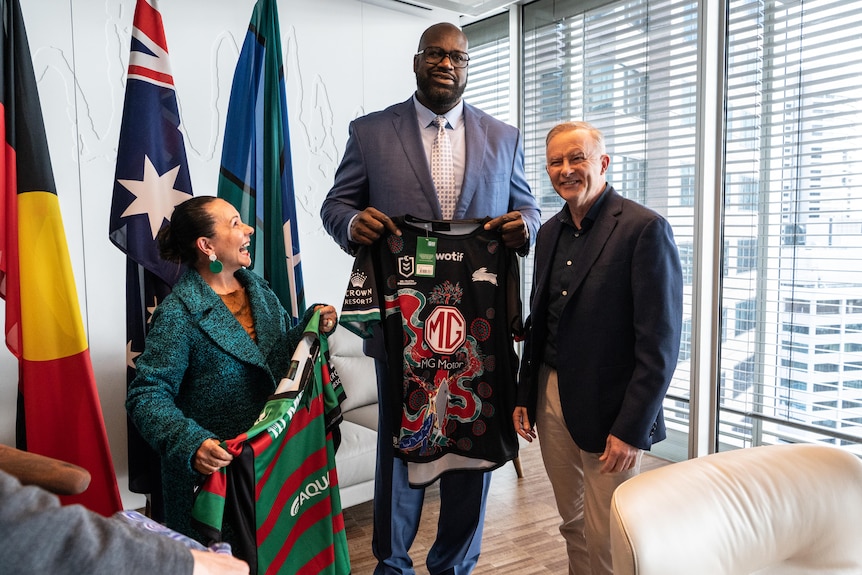 MORE STARS JOINING TO SUPPORT THE VOICE
Albanese said the federal government would enlist the support of Sportscode and stars to spread the referendum message throughout the community and said it was already in talks with the AFL, NRL, basketball and netball organizations.
Barney said it remains to be seen whether O'Neill's involvement in the cause will sway voters.
"We need to get broad support across the country for any change to the referendum," Barney said.
"It's not easy in Australia – we all know it – I think having Shaquille O'Neal as part of the campaign is important, but building support across the community is also very important. is.
"It was great to meet him and see people like O'Neill taking an international interest in the referendum and our ongoing nation building project."
The prime minister admitted he had genuine concerns about divisive and racist commentary derailing the referendum campaign.
"But the truth is that inappropriate comments have unfortunately been the hallmark … for a long time, against indigenous peoples," Albanese said.
"And I think some of the comments made about this discussion are inappropriate.
"But it's also a great opportunity to unite the country, and a great opportunity to move unity forward."
Some critics have taken aim at Voice's proposal, saying that the decision to leave the design of the body to parliament means that the Australian public will not know the details of what they are voting for at the time of the referendum. claims to mean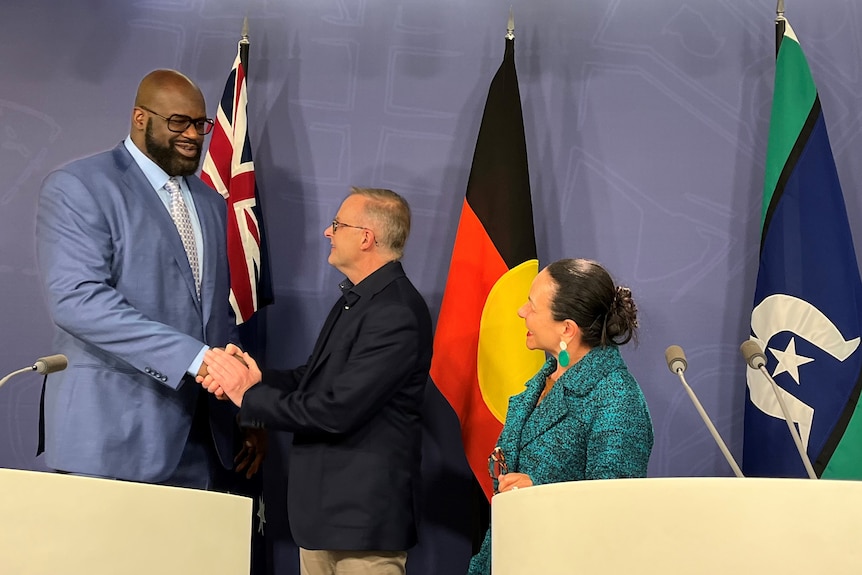 "Uluru's statement was very specific and clear about this. Congress will have the final say on what the voice will look like and what its function will be," Barney said.
"We will not take over parliament.
"It will be an advisory body and a constitutional body," he said.