The Flat – Georgia Tech men's tennis, highlighted at home tournaments, will play a competitive fall slate as they head into the opening of the 2022-23 season.
Yellow Jackets traveled to Columbia, SC for UTR in South Carolina September 9-11 and traveled through Columbus, GA for UTR Columbus September 16-18 to meet some Participate in some UTR events.
The action continues until the Yellow Jackets return for the Commodore Invitational at Vanderbilt September 23-25. 2.
Selected individuals will compete in the ITA National Championships hosted by the University of Tulsa from October 1-9. Qualifying action starts on October 1st and the main draw starts on October 5th. The team will return to action at the ITA Southeast Regional in Tallahassee, Florida, October 20-24, before wrapping up the month with an FSU Futures event. October 24-30.
The fall season concludes with Tech hosting the GT Fall Invite from November 4-6. Also, some yellow his jacket will be competing in the ITA National Fall Championships in San Diego, California, November 2-6. It is the finale of the fall college tennis season and will feature 32 of the nation's top college singles players and his 32 doubles teams.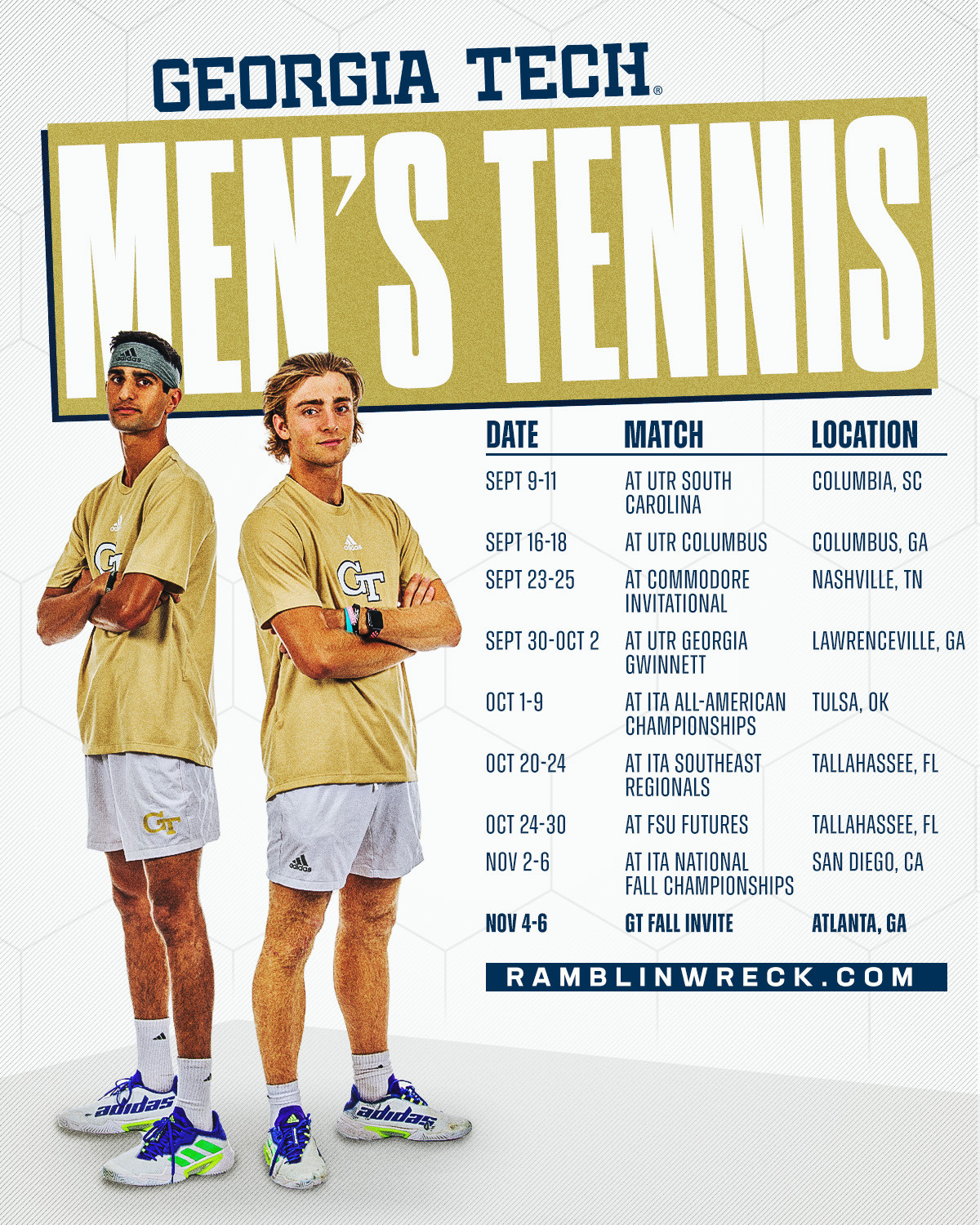 Georgia Tech returns four letter winners from last season's team keshab chopra (Marietta, Georgia), Angel Guerrero Melgal (Marbella, Spain), Andres Martin (Flower Branch, GA) and Marcus McDaniel (Vacaville, Calif.). Three newcomers have joined the roster Robert Bauer (Suwanee, GA), Rohan Sakdev (Cary, NC) and Elias Shokley (Marietta, Georgia).
Alexander Tharp Foundation
The Alexander-Tharpe Fund is the fundraising arm of Georgia Tech track and field, providing scholarship, operational and facility support to more than 400 Georgia Tech student-athletes. By participating in the development of Georgia Tech's daily champions and helping Yellow Jackets compete for championships at the highest level of collegiate athletics. Annual Athletic Scholarship FundWe offer scholarships directly to Georgia Tech student-athletes. For more information on Yellow Jackets support, please visit: atfund.org.