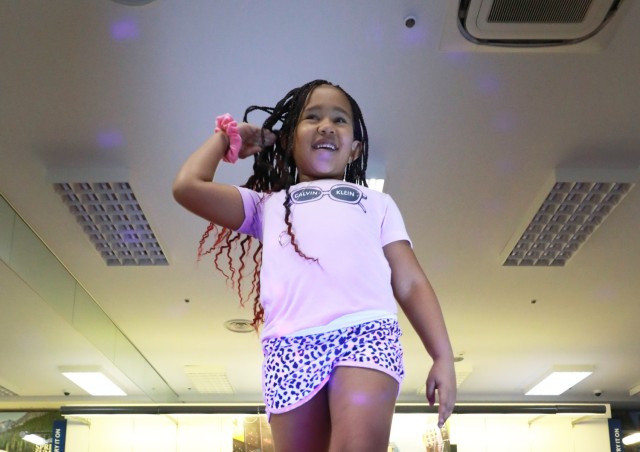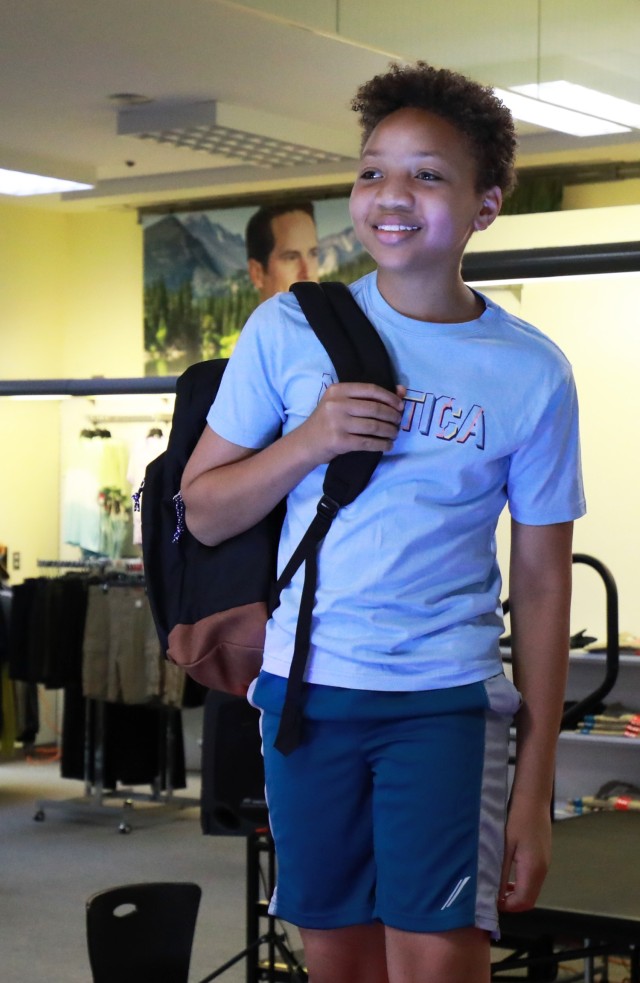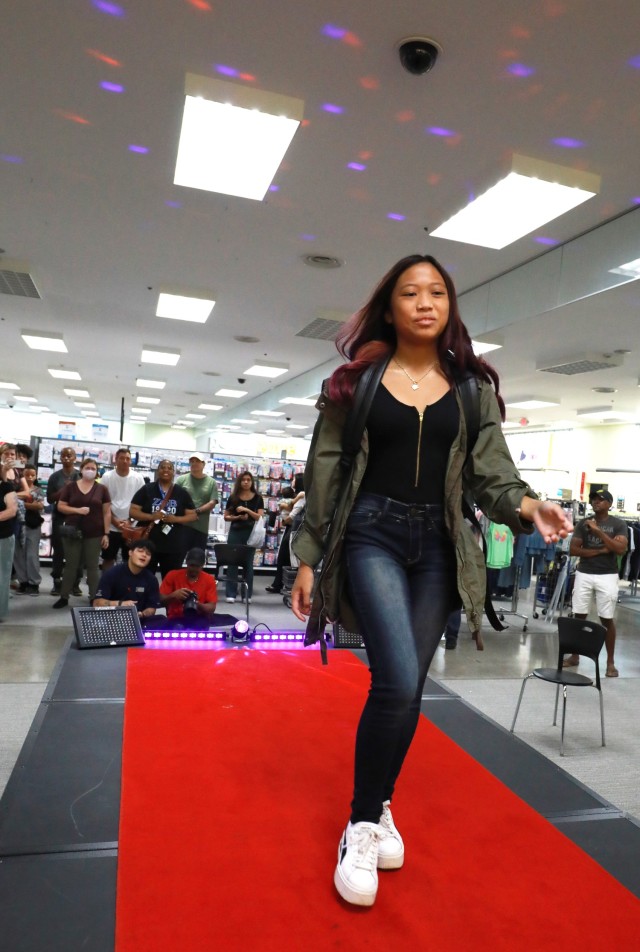 Camp Zama, Japan – Camryn Johnson, 11, has always wanted to be a model. Her first opportunity was for Red to walk down her carpeted runway, blaring music, strobe her lights and flashing camera shutters.
Camlin was one of more than 20 models who took the stage to highlight their back-to-school looks at the all-ages fashion show at Maine Exchange on Saturday.
"[My mom] They told me they were doing this fashion show, and I immediately said yes. "
Camp Zama Army Community Services organized this event primarily as a way to showcase the various boy and girl clothing styles available at the exchange to families arriving in Japan in the summer.
"I know back-to-school isn't a fashion show, so they say, but it totally is," she said with a laugh.
In the middle of the exchange, space was set aside for an elevated T-shaped stage, with New York City streets and runways as a backdrop, facing directly toward the assembled crowd.
"I have been to some fashion shows and the lights, the stage and the music [we used] We made it more of an event," Ward said. "Either you grow up or you go home."
Ward, who acted as the host, announced each model's name and explained the outfits and accessories they were wearing.They then walked to the edge of the stage to pose. Some stood almost still, while others took the opportunity to do dance moves or perform dramatic hair flips.
To find a model to attend the show, they had to put an "all call" on the Camp Zama Facebook page and they were added to the line-up an hour before the show.
"They just came out of the woodwork," said Ward. "It was great, and they were all really excited about it."
Each model showed off two outfits that included accessories such as shoes, backpacks, bracelets and sunglasses.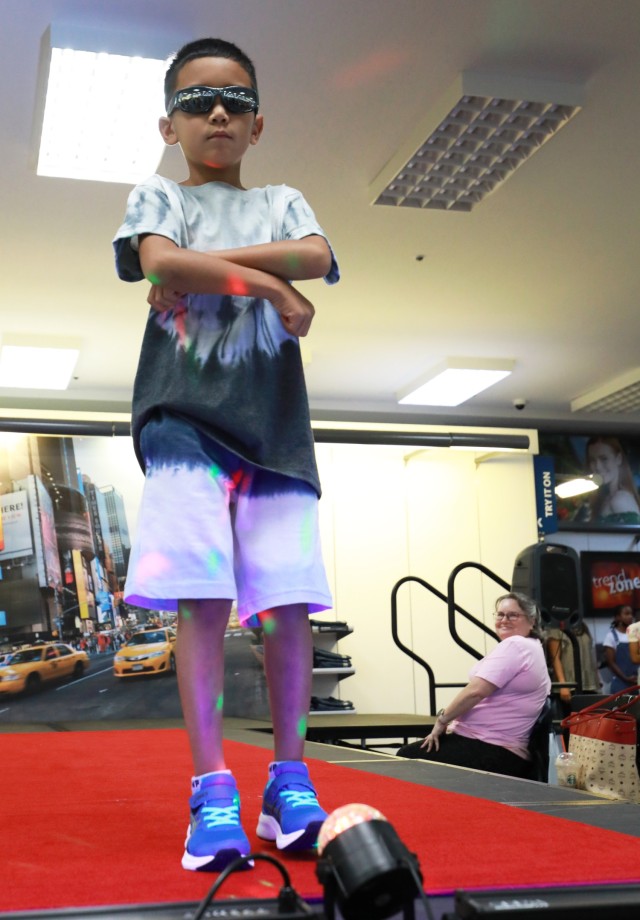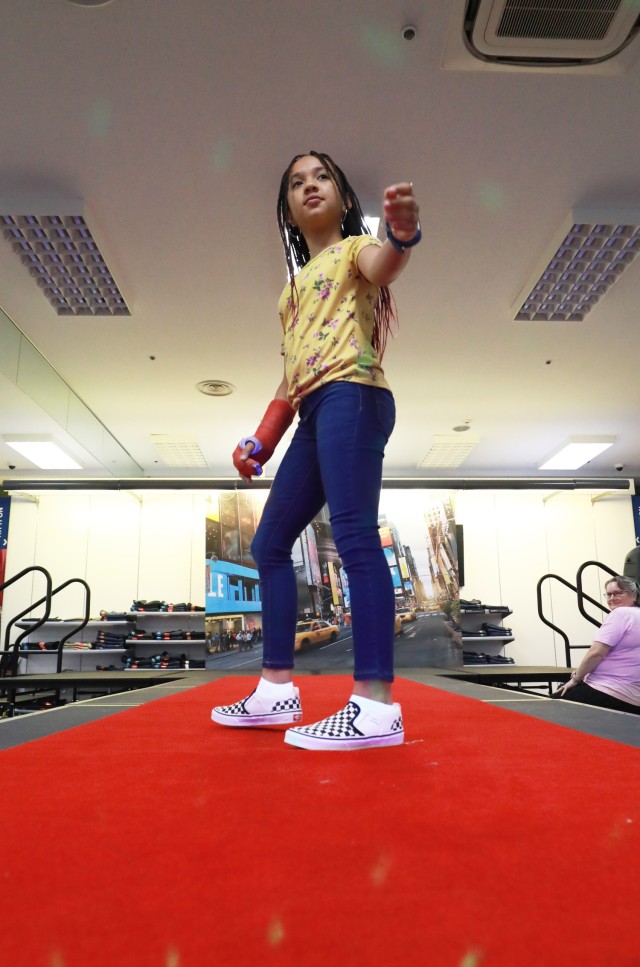 "For the first outfit, I chose an undershirt and a dress because I have a lot at home," Camlin said. "Second, I chose my favorite color, purple. [the brand] champion. "
For his first walk, first-time model Jaden Bing, 12, chose Nike shorts and a gray t-shirt to match his new Jordan sneakers he just acquired. He then "picked a random one for the second costume." [to] Go with the flow of the whole Nautica. "
Allowing the models to choose their outfits was done to make the children feel more comfortable and hopefully relieve any tension they might have had before going on stage.
"I believe it allowed them to have a little bit of autonomy and to know, 'I'm doing this for myself and I'll be able to show my style. I'm here.
When Valerie Broussard Boston heard about recruiting models, she asked her daughters. Ophelia, 7 years old. and Josephine, 10 — if they want to participate and all three say they are very enthusiastic about the idea.
"[They are] I'm a born performer, so whenever I get the chance to go on stage and perform, I jump at it," said Boston. "It was the first time for everyone, but it was a lot of fun."
Boston said she enjoyed the show because attending it gave her daughters and the rest of the models a great opportunity to be part of the community as well as get discounts on clothing. .
"All their little friends were doing it, and they were queuing up and chatting and enjoying all the preparation and all," she said. And I was watching them do each thing and each shine."
After finishing her first fashion show, Kamryn had one piece of advice for other aspiring models.
"I think all you really need is confidence when you're on stage," she said. "It's fun to meet the audience. You also meet different people on the runway. That's what I love about modeling."