I once had a female student whose life was shut down due to obesity and arthritis, incapable of mobility and activity. She started her yoga class sitting on the couch, moving her body and doing simple movements. Within 3 months she was off the couch doing more yoga on her mat and within 6 months she had successfully lost weight around her chin, neck, arms, hips and legs. Her arthritis and pain in her knees have also disappeared. She returned to her normal active life and began attending singing classes where she was able to sit.
She is an example of how yoga systematically works against your BMI, using only your body to shape it. Yoga works against gravity on many levels. Its purpose is to lift you into the higher dimensions beyond the realms of our solar system. So keeping you light in every way is programmed into the exercise. Diligently practicing yoga along with a proper diet can help you get rid of belly fat. In addition to aesthetics, belly fat can cause back problems, diabetes, blood pressure and affect the heart.
Below is a suggested daily regimen of asanas, but in addition to this, we recommend doing a full body cleanse at least once a month until excess fat is removed. The method is called Shank Praksharan.
Begin with a sitting asana, then lie on your back, and finally a standing asana, followed by Surya Namaskar, followed by Shavasna, and finally Pranayama.
sitting asana
1. Chakkicharasana (grinding motion): This asana imitates the traditional attachakki grinding motion found in every home. Sit with your legs out in front of you. Relax your whole body. Interlock your fingers and separate your feet from each other as if there is a whetstone between them. Then keep your elbows straight and your arms in line with your front shoulders. Take a deep breath and move as far back as you can without losing your balance.
Then straighten your arm and move it to the right, bend forward and place your arm over the toes of your right foot, then over the toes of your left foot, then return to the starting position again. Continue this circular motion without rest, stirring an imaginary checker between your legs. This will go full circle. Do 5 rounds clockwise and 5 rounds counterclockwise.
Awareness must be in the rhythm of breathing and the impact of movements on the hips and abdomen. Suitable for tightening excess fat on hips and belly.
2. Naukachalasana (Rowing): Continue sitting in the same pose with your legs extended forward and your arms extended forward as if you were holding the oars of a boat.
Inhale deeply, and as you exhale, bend forward at the waist and extend your arms forward as if you were rowing a boat. Then, on an inhale, lean back as far as possible, pull your arms back, and complete one cycle of imaginary oars moving from back to front. That's one week. Do 5 rounds in one direction and 5 rounds in the opposite direction. Lower back first, then bend forward.
Awareness should be on the breath and feel its impact on the pelvis and abdomen. Helps relieve constipation problems.
3. Gatyatmakmeruvakrasna (Dynamic Spinal Twist): Stay relaxed and sit with your legs extended forward but as far apart as possible. Extend your arms sideways along your shoulders.
Take a deep breath, twist your hips as you exhale, reach your right hand to touch your left big toe, reach your left arm back, and look behind your fingertips. your left hand. Therefore, the whole body is aligned in a straight line. This ensures a full body twist. Then inhale and return to the center. As you exhale, twist to the other side, reach your left hand over your right big toe, extend your right arm behind you, twist your head back, and look at the fingertips of your right arm. This is the end of round 1. Do 5 rounds.
Lying on your back asana
1. Paduttanasana (Legs Raised Pose): Lie on your back with your feet about a foot apart, your hands by your sides, and your whole body relaxed.
Inhale deeply, and as you exhale, lift your right leg as slowly as possible, keeping your knee straight without supporting it with your palms or arms. At first, you may not be able to raise your leg to his 90 degrees to your body, but with practice, this will become your final position. Hold him in a 90 degree position for as long as possible and slowly lower your leg while inhaling. Do the same with your left leg, then bring your legs together.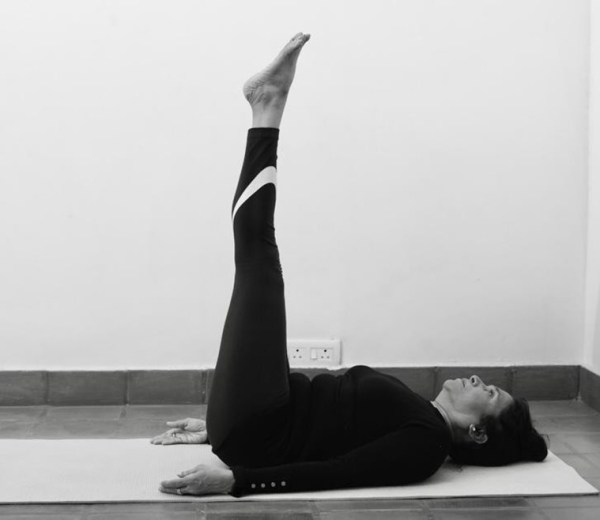 Let your stomach muscles do all the work and be careful not to hold your hand or arm while lifting your leg, says Kamini Bobde (Express photo)
Make sure you don't use your hands or arms for support as you lift your leg, but rather let your stomach muscles do all the work. Tones the stomach muscles and regulates the digestive system. People with back problems should do waist exercises first.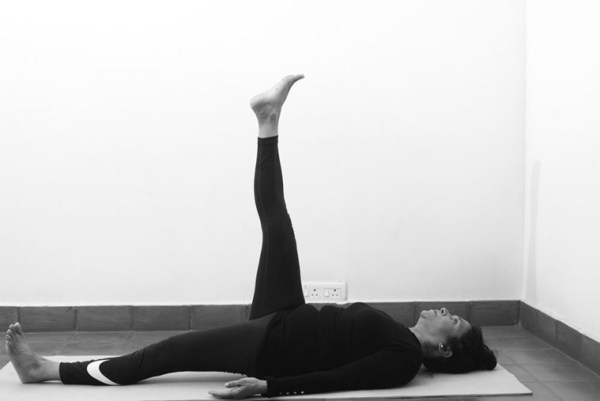 People with back problems should do waist exercises first, says Kamini Bobde (express photo)
2. Pada Chakrasana (Leg Rotation): This asana was popularized by Ramdev Baba for weight loss. Lie down and lift your right foot slightly off the ground. Then rotate your leg in a full circle. Do 5 to 10 rotations first clockwise, then 5 to 10 rotations counterclockwise.
Do the same with your left leg, then bring your legs together. Again, let your stomach muscles do all the work instead of propping it up with your arms or palms. Be patient.
standing up asana
Tadasana (Spine Elongation Pose): Stand with your feet slightly apart, your fingers interlaced, and your arms raised overhead with your palms facing up. Look at a point at eye level for balance, then inhale and stand on your toes. Extend your arms to the fullest extent and fully extend your body from your toes, spine and arms. Then exhale and slowly return to the starting position. That's one week.
Suryanamaskar: The 12 poses are easily available everywhere and don't require detailed instructions. Start with a few rounds and work your way up to at least 10 rounds.
Shavasana (Corpse Pose): Always follow the practice of Suryanamaskar with shavasana. This is a 3-5 minute full body relaxation exercise. Of course, don't miss the pranayama.
For quick and best results, avoid carbohydrates, sugar, refined foods, fast foods, potatoes, fried foods, spicy foods, etc. Increase your intake of protein, fiber and what works for your system. Be aware. Keep one-third of your stomach empty. Drink enough water throughout the day.
Kamini Bobdeh is a Kundalini Practitioner who follows the Swami Satyananda Saraswati tradition of yoga. She is the author of Kundalini Yoga for All: Unlock the Power of Your Body and Brain.penguin issue