In the early days of the pandemic, there were many predictions about how the world would change forever.
Some were kind of right. Others were very wrong. So with these things.
What I didn't understand was how online classes disrupted colleges after students realized how pointless going to class was.
If anything, the pandemic has proven how necessary it is for young people to socialize with their peers. The social and networking aspects of college may become even more important than they were pre-pandemic.
This is especially true given the number of college graduates who land remote jobs soon after graduation.
The shift to remote work still feels like an underestimated trend due to the long-lasting ripple effects ahead.
Housing, commercial real estate value, voting patterns, commute time, business travel, ability to find the job you want, infrastructure spending, family dynamics, and general well-being are all dependent on your ability to work from home (or anywhere). can be greatly affected. choose).
Bloomberg recently highlighted a study showing that working one day a week in an office is the recommended work schedule globally.
Data from workplace occupancy analytics firm Basking.io shows that 50% of office visits worldwide went from 44% in Q1 to just once a week in Q2. At the same time, fewer people commute four to five days a week, especially in big cities.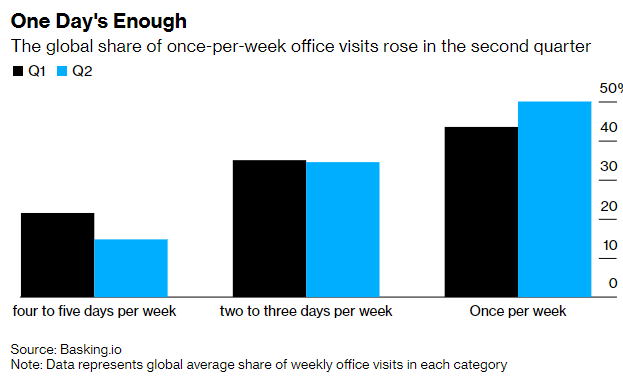 It's been 7 years since I started remote work. There are many benefits.
Working alone in the office is more efficient. Because it's much harder to be interrupted or distracted by people. More flexible. You can basically make your own schedule. Your commute will be much shorter.
However, it has some drawbacks.
Zoom, Slack, Microsoft Office, and Gmail make it easy to work from anywhere, but you lose out on many of the social aspects of regular office interactions. There's a lot to miss, not only in terms of socializing and getting to know people, but also the culture of the organization you work for.
Remote work requires a more coordinated effort to be social. Future business travel may therefore be more about social events than actual work.
This summer I had two "business trips". I put the work in quotes here. A few The work done on these trips was mostly social events with colleagues.
I met with the operations team in Chicago and went to a Cubs game with them.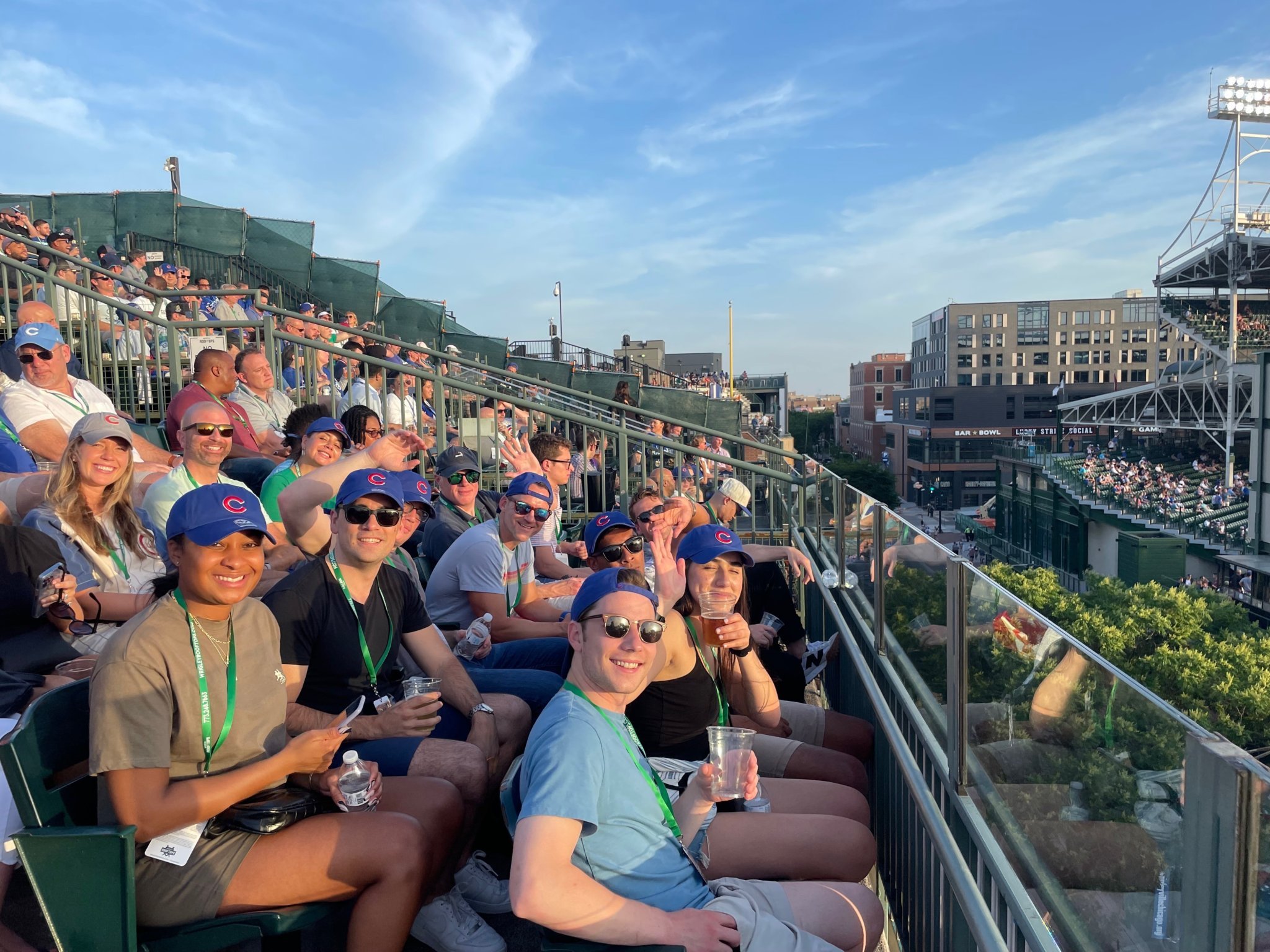 A few weeks ago I flew to New York City, but instead of working from my office in Manhattan, my co-workers and I went to Long Island for a cookout/pool party and spent some time on the ocean: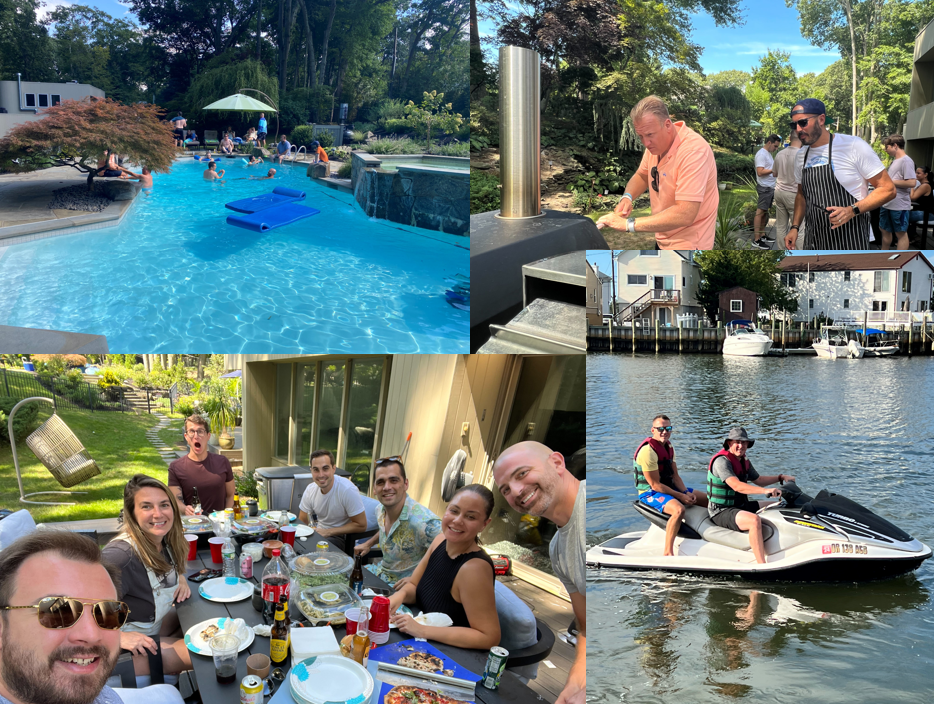 These features had work elements. People still have to pay attention to their responsibilities. But it's also a great opportunity for them to reunite, meet new employees (many of whom I only knew via Zoom or the phone), and further develop the company's culture.
And whenever you socialize, you can have a more organic work conversation than a Zoom call.
While in the past there has always been a social component to business travel, such as dinner and drinks, it is even more important to make concerted efforts to put ourselves in more social situations in a more comfortable world. will be remote work.
I haven't attended any meetings since the pandemic started.
I'm not against conferences per se, but it justifies sitting in a hotel ballroom and traveling to listen to a few panels on the subject that can be heard on podcasts or Zoom calls. I'm having a hard time.
The biggest selling point of most conferences is the ability to interact with your peers. Sure, there are specific speakers, topics, or panels that can enlighten you, but for the majority of conference attendees, socializing is what matters most.
Technology makes it so easy to stay at home these days that we need to invite people to travel.
That's why I wanted to create an event that felt more relaxed than a stuffy hotel conference room. So we partnered with the team at the Advisor Circle to create something unlike any other financial conference you've ever attended.
Located in Huntington Beach, California. It's outdoors (the stage will be the beach). With the help of the local Chamber of Commerce, we basically rented out an entire city of hotels, restaurants and bars so we could mingle with others in asset management, tech and venture capital.
A list of speakers has been loaded and several live podcasts will be recorded as part of the event (including my podcast Animal Spirits).
But I'm really looking forward to meeting up with friends I haven't seen in 3-4 years over a beer. I look forward to meeting new and interesting people. I enjoy spending time at the beach. We are looking forward to great musical activities.And I look forward to having miami vice (or three).
It looks like 2,500 people have signed up so far, but there's still room if you're interested. It's going to be a lot of fun.
You can do it register here When Book your room here.