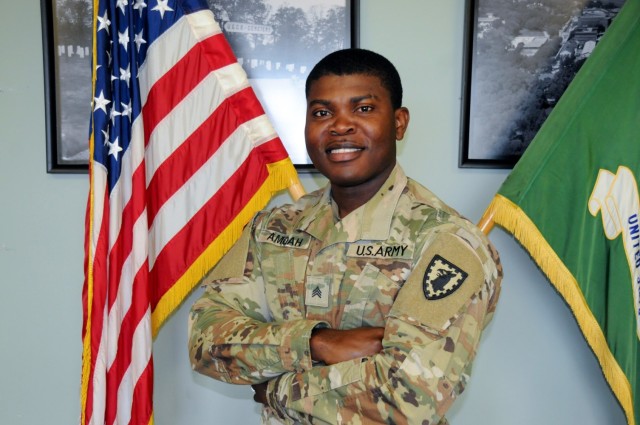 Fort Leavenworth, Kansas – for Sgt. In his first time in America, Alexander Amour recalled a scene from the 1993 Disney movie Cool Runnings.
"First time in the US, we landed at JFK Airport in New York City in January," says Amoah. "I was thinking about the coldest time of the year in Ghana, so I only had two long-sleeved shirts.I opened the door and was back at the airport. We only have summer and spring, and the weather has changed a lot."
Amoa immigrated to the United States in 2013 from Ghana, a small country on the Atlantic coast of Africa. Ghana's population is approximately 31 million. The Metro Her area of ​​NYC itself is more than half that amount.
Amoah came to the US as part of the Electronic Diversity Visa Program. The Immigration Act of 1990 established a diversity visa program with 55,000 immigrant visas available to her in an annual lottery. The lottery aims to diversify the US immigrant population by selecting applicants primarily from countries with low immigration rates to the US over the past five years.
"I was on my way to church one day and saw a group of people collecting applications for the program," Amoa said. "It was the first time I heard of the program. At first I thought it was a scam. I didn't believe it. You can't go to America that easily."
Once selected, Amoa had to go to the U.S. Embassy in Accra, the capital. He underwent a medical examination and an interview, and authorities confirmed that he could speak and write in English.
"I still didn't believe it was true until I got my visa," he said. "I came to the United States only a few weeks later."
He made the difficult decision to come without his wife and newborn daughter. Before he could bring his family in, he had to come see how things were going, decide on a location, and find a place to live. He eventually made it to the U.S. Army recruiter's office and enlisted in November 2013.
"When I got here, I had to enroll in elective services," said Amore. "I was already doing national service in Ghana. After I finished school, I worked in a government agency for 12 months and where I gained experience. I was able to apply to come."
Amore is an automated logistics specialist currently assigned to the 15th Military Police Brigade.
"When I met with the recruiter, he told me there were certain jobs that weren't open to people who weren't citizens of the United States," Amore said. I chose it because I thought it reflected well in the civilian world and the opportunities this job offered were interesting."
His primary duty at his current job is as a non-commissioned officer in the training room.
"I plan and schedule annual training to ensure all personnel are up to date with training," he said. "I also teach classes from time to time."
Amoa has lofty career goals, but believes they can be achieved. He completed his Master's Degree in Health Administration in 2019 and his PhD in Health Administration in March of this year. He plans to eventually switch his MOS to health administration and has just been selected for Officer Candidate School. He hopes to become one of his top health care officers in the Army.
Reflecting on the experience, Amore says he was nervous at first but quickly found his way.
"The United States is much bigger than Ghana," he said. "There are many more, but we have programs and policies in place to help those who were not born here grow and improve themselves."